A friend and I hopped a train to Chicago last month to catch the Lyric's performance of Verdi's La Traviata. As we boarded the train, it was the usual aisle shuffle, weaving past newspapers, crossed legs, hand baggage, and the like. We noticed, across the aisle, a gentleman reading on a new e-reader. He looked relaxed, unfettered by large pages of the newspaper, and unburdened by turning pages. My friend asked an innocent question: "Isn't this bad for companies like yours?"
I'm a book lover (alias: hoarder; scientific name: bibliophile). I enjoy looking at books: holding them, flipping pages, separating un-cut periodical pages, etc. I am hard pressed to read anything on the screen. I find it so difficult to have any kind of interaction with a screen. Anything sent to me in this way is printed out at first opportunity (on the back of scrap paper, of course).
In some ways, the work that I do at Better World Books suits me perfectly. I get to hold some of the gems that all of you send to us each day: a first edition Roll, Jordan, Roll; a second printing Bell Jar; an autographed, first edition Zane Grey. The list goes on. I wonder how much a signed, "first download" copy of J.K. Rowling's latest is going for these days?
So, no, e-readers are not bad for companies like ours. In fact, perhaps they might even help us out. Recent chatter has suggested that Google's book scanning project has increased demand for paper copies of books by a measurable amount. It would seem that folks have more access to and awareness of books that they would like to have: to hold, to read, to treasure. I'd say the same will likely come of the e-reader: how else can one feel the same sense of accomplishment other than by turning pages?
No, physical books will never be replaced. Libraries, bookstores, and living rooms; they will always be a place where humanity can go to explore the thoughts of others as well as their own.
When my friend and I finally reached the opera house, we were exhausted. Waiting for the overture, I thought aloud: "I suppose that we could have purchased a recording from iTunes or gone to one of The Met's Hi-Def Broadcasts and saved ourselves the trip here." As we heard Violetta's opening lines, performed that night by Renee Fleming, that idea seemed to fade into the distance. It was definitely worth the trip.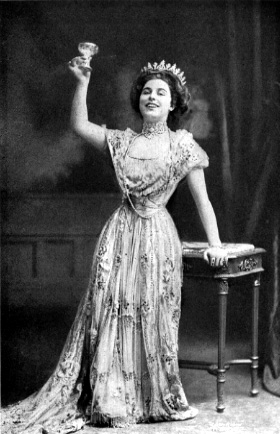 (Above: Geraldine Farrar as Violetta in La Traviata.)